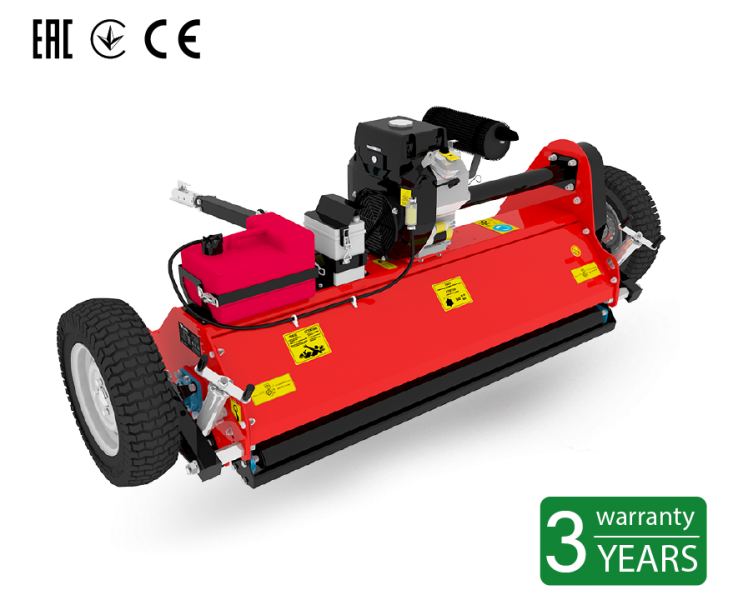 Cleaning equipment
Mulcher MR-1650BD
Mulcher ARPAL MP-1650BD is designed to care for green areas, used in agriculture and utilities. It is convenient for cleaning dead wood, shrubs and weeds in neglected and unattended areas. In agriculture, the MR-1650BD mulcher is applicable for the care of fields, forest belts, mulching row-spacing in gardens. In utilities, the Arpal mulcher is applicable in the care of roadsides, forest-park and green areas in an urban environment. The use of the mulcher accelerates the time of mineralization o…
OVERALL DIMENSIONS AND MASS CHARACTERISTICS
MAIN WORKING CHARACTERISTICS
ENGINE CHARACTERISTICS
Max. turns on engine shaft:
Mulcher ARPAL MP-1650BD is designed to care for green areas, used in agriculture and utilities. It is convenient for cleaning dead wood, shrubs and weeds in neglected and unattended areas. In agriculture, the MR-1650BD mulcher is applicable for the care of fields, forest belts, mulching row-spacing in gardens. In utilities, the Arpal mulcher is applicable in the care of roadsides, forest-park and green areas in an urban environment. The use of the mulcher accelerates the time of mineralization of plant residues, which positively affects the soil and cultivated plants, and reduces the use of herbicides.
The design of the MR-1650BD mulcher was developed taking into account the wishes of farmers and public utilities, for convenient storage in the off-season. It has small dimensions: height - 950 mm, width - 2570 mm, length - 950 mm.
The mulcher arpal MP-1650BD is equipped with an 20-horsepower Weima gasoline engine with a fuel consumption of only 1000 g / h. The engine is protected against overloads by a special friction clutch of our design, which also facilitates starting the engine. The engine has a separate warranty from the manufacturer for a period of 12 months. Using a gasoline engine allows you to use the equipment together with various types of equipment, such as a mini tractor and ATV, which in turn allows you to process those areas that are not available for processing with full-sized tractors. The mulcher is fastened in one coupling with a minitractor, ATV and even a car with the help of a towbar mount, movable in two axles.
The working element of the equipment is steel hammers, or knives. The choice of work item depends on the nature of the garbage being ground. For mulching shrubs hammers are used, for leaves and grass - knives. In the mulcher is 48 knives, or 24 hammers.
For maneuverability on uneven surfaces, pneumatic wheels are installed on the mulcher.
Mulcher MR-1650BD is fully produced at our enterprise. We control the quality of all stages of our production, all landing surfaces undergo mandatory grinding. Quality control of welds is carried out.
Before painting, all structures are cleaned. The equipment is coated with powder paint, resistant to mechanical stress, which significantly extends the life of the structure.
We are confident in our products, so we provide a 36 month warranty on the ARPAL MP-1650BD mulcher. In addition, we, as a manufacturer, produce both warranty and post-warranty maintenance of equipment of our production.
Inform the company manager about the desire to purchase a mulcher in installments. Call or fill out the feedback form right now.
Arpal Customers