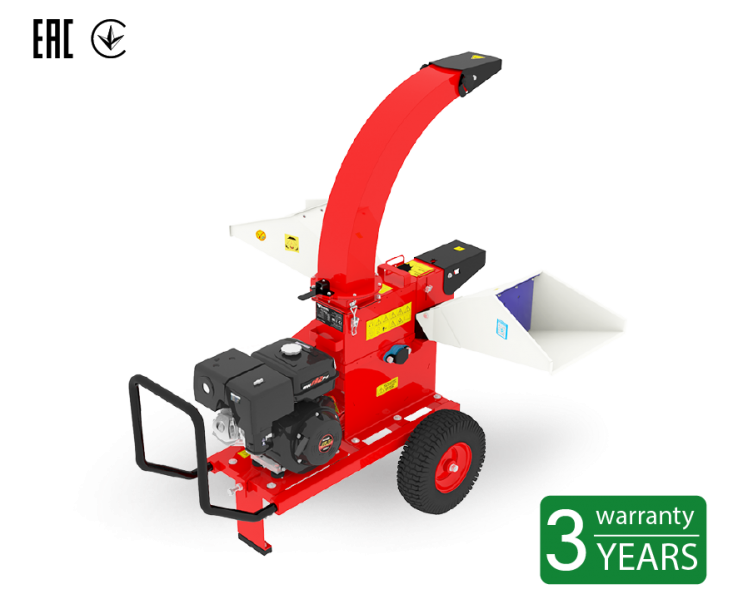 Feed chopper
KM-40BD MAX
The feed cutter KM-40BD is intended for grinding stalks of corn, reeds, sedges, nettles, beets, corn cobs, grain, twigs and other plant materials into feed for livestock, pigs and other animals. The forage chopper is equipped with a 16 hp gasoline engine. and is mounted on pneumatic wheels that allow you to use the equipment anywhere, without being tied to a source of electricity.
OVERALL DIMENSIONS AND MASS CHARACTERISTICS
MAIN WORKING CHARACTERISTICS
Number of knives / hammers:
Max. turns on cutting knives:
ENGINE CHARACTERISTICS
Max. turns on engine shaft:
The feed cutter KM-40BD processes raw materials of plant origin into feed for animals, by crushing the supplied raw materials with three knives, which are installed on two steel discs, for each inlet hopper. The cut material enters the drum, where an additional 9 steel hammers interrupt the raw material to a fraction sufficient to pass through the sizing sieve, which is installed at the outlet of the grinder. The sieves are replaceable and available in diameters of 5 mm, 7 mm, 12 mm, 25 mm and 30 mm. A sieve with a mesh diameter of 25 mm and 7 mm is installed as standard. For grinding grain into flour, you can install a sieve with a diameter of 7 mm. For higher productivity, the feed cutter should be used without a sieve, in which case the feed will not be calibrated to pass through the cells when not required.
A feature of our feed choppers is two feeding hoppers, which allows two operators to work with the equipment at once. Also, the equipment can be used alone. To work with grain, the bins are equipped with dampers that allow you to regulate the supply of material to the grinder. Before storage or transportation, the inlet hoppers are folded and take up a minimum amount of space.
The output of the crushed raw material occurs through the unloading chute into any container of suitable height. Hooks for hanging bags are provided on the reflective visor and the gutter itself. The KM-40BD equipped with a rotary unloading chute that rotates 360 degrees for unloading shredded raw materials in bulk onto a trailer or into a high container.
The knives of the KM-40BD feed crusher are made of 6XV2S steel. Without fail, knives undergo a heat treatment process on a modern HDTV installation.
The KM-40BD forage grinder is equipped with a WEIMA 16 hp gasoline engine. fuel consumption of which is only 800 g / h of A-92 gasoline. This engine is one of the highest quality on the territory of Ukraine, the company's service centers are located in every region. The engine is protected against overload by a special friction clutch of our design. The engine is covered by a 12 month manufacturer's warranty.
The feed cutter KM-40BD is completely manufactured in our production. We control the quality of all stages of our production, all seating surfaces undergo obligatory grinding. Quality control of welded seams is carried out.
Before painting, all structures are cleaned. The feeder is covered with powder paint, which significantly extends the life of the chopper structure.
We are confident in our products, so we provide a 36-month warranty for the KM-40BD feed crusher. In addition, we, as a manufacturer, carry out warranty and post-warranty service of the shredder.
Buying a crusher from us you get a reliable assistant in your farm!
Tell the company manager about your desire to purchase equipment by installments. Call or fill out the feedback form right now.
Arpal Customers