ARPAL will take part in the "Battle of Agrotitans"
11 08 2021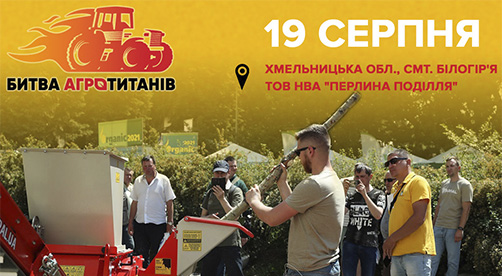 ARPAL will take part in the "Battle of Agrotitaniv", which will take place in the Khmelnytsky region, Belogorsky district, town. Belogorye, on the territory of LLC NVA "Pearl of Podolia" on August 19!
We invite you to visit the event if you are interested in seeing how the ARPAL technique works. You will be able to communicate with representatives of the company, inspect the equipment in detail, and even try the equipment in operation.
At the exhibition, for the first time, we will be demonstrating the AM-200TR-K wood chipper in operation, which will be aggregated with the MTZ 1221 tractor.
We will be glad to see you!