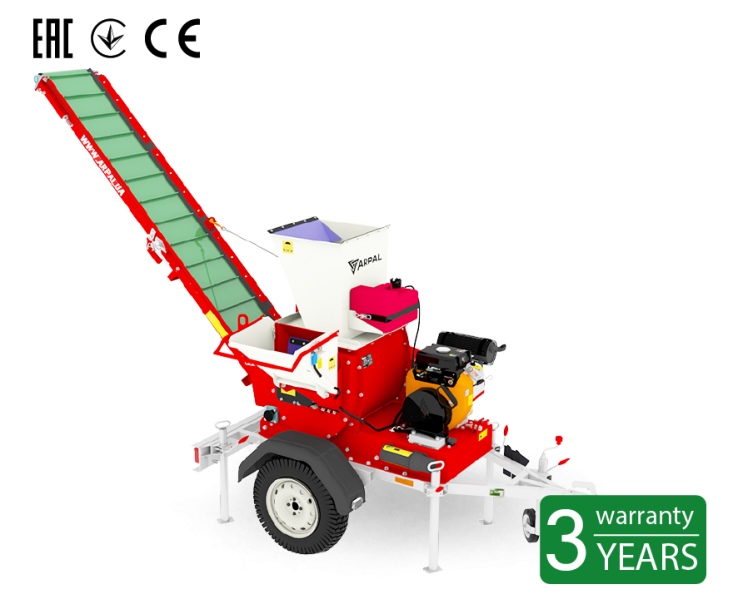 Wood shredders
MS-120BD-K
Chip cutter MS-120BD-K combined type with two input bins is designed for processing and disposal by shredding branches, vines, leaves, bark, bushes and other organic and garden waste. Chip cutter turns raw materials into technological chips. The resulting chips can be up to 25, 35 and 45 mm in size. Equipped with a WEIMA brand gasoline engine with a capacity of 20 hp. The chipper is mounted on a single-axle trailer certified for travel on public roads.
OVERALL DIMENSIONS AND MASS CHARACTERISTICS
| | |
| --- | --- |
| Length: | 2590 mm |
| Width: | 1407 mm |
| Height: | 2000 mm |
| Weight: | 676 kg |
MAIN WORKING CHARACTERISTICS
| | |
| --- | --- |
| Height of the conveyor: | 2,5 m |
| Max. productivity: | 12 m3/h |
| Soft wood max. diameter: | 120 mm |
| Hard wood max. diameter: | 100 mm |
| Size of splinter: | 25, 35, 45 mm |
| Number of knives / hammers: | 60 pcs |
| Quantity of knives: | 2 pcs |
ENGINE CHARACTERISTICS
| | |
| --- | --- |
| Engine power: | 29 h.p. |
| Max. turns on engine shaft: | 3600 rpm |
| Fuel type: | Regular |
Shipping and payment
Shipping
Nova Poshta
SAT
---
Payment
Cash, Non-cash (with and without VAT), purchases and tenders Prozorro, Visa/MasterCard, Cash on delivery
---
Installment plan
It is possible to purchase goods in installments from the following banks:
Monobank
Chip cutter MS-120BD-K belongs to the industrial class of machines and is a unique installation of its kind. The chipper is completely autonomous, does not require a tractor on the farm and can be transported directly to the place of work. The equipment does not require a source of electricity and all components operate from a standard gasoline power plant. A distinctive feature of this model is the presence of a conveyor, with the help of which the crushed raw materials can be immediately shipped to the back of a truck.
Arpal MS-120BD-K is perfect for processing waste on farms and enterprises involved in the selection of cultivated plants. With the help of our wood chipper, any organic waste from the garden or greenhouse can be processed into high-quality mulch. Trimmings of branches of fruit trees, vines, rose bushes, wild roses, tops of annual plants, leaves, grass, bark and many other materials that used to cause inconvenience can be chopped in a matter of minutes with our wood chippers.
Chip cutter Arpal MS-120BD-K turns raw materials into technological chips. The resulting chips are calibrated with a sieve with a hole size of 25, 35 and 45mm. The standard package includes 1 sieve with a hole diameter of 35 mm. Chip crusher MS-120BD is capable of cutting branches with a diameter of up to 120 mm, depending on the humidity and wood species. The resulting wood chips can be used as fuel for pyrolysis and solid fuel boilers, stoves and other heating devices. Wood chips can also be used in landscaping, cooking, as a mulching material, or as fertilizer for plants.
The main feature of the MS-120BD-K leaf and grass grinder is its raw material loading system, which consists of two hoppers. The top loading hopper is designed for shredding leaves, bark, grass and garden waste. The hopper with side loading is designed for chopping branches with a diameter of up to 120mm. Chips are unloaded through a conveyor with a lifting height of 2.5 meters, for loading processed raw materials into a Big-Bag, a trailer, or a truck body.
The working body of the wood chipper MS-120BD-K is a disk on which two knives are placed, made of tool steel 6HV2S. And a drum, on which 60 hammers are installed, which grind the raw material to the desired fraction. To calibrate the finished raw material, a sieve is used, which is installed at the outlet of the cutting zone of the mechanism. Without fail, the knives undergo a heat treatment process on a modern HDTV installation.
The performance of the MS-120BD-K wood chipper is maximum 12 cubic meters of finished products per hour. Productivity directly depends on the quality of preparation of raw materials and the number of personnel involved in the work.
Chip cutter MS-120BD-K is equipped with a gasoline V-shaped, two-cylinder engine of the LIFAN brand with a capacity of 29 hp. This engine is one of the highest quality in Ukraine, the company's service centers are located in every region. The engine is protected from overload by a special friction clutch of our design. The engine is covered by a 12 month manufacturer's warranty.
Chip cutter MS-120BD-K is installed on a high-quality certified trailer with German components. The platform is equipped with stops that lower before work and give additional stability to the equipment. The trailer is single axle and can be used on public roads without an additional driver's license category. The weight of the equipment together with the trailer is 676 kg.
The characteristics of the MS-120BD-K chopper indicate the dimensions and weight with a trailer in the transport position: length - 2500 mm, width - 1405 mm, height - 2016 mm.
Before painting, all structures are cleaned. The wood chipper is covered with powder paint, which significantly prolongs the service life of the chipper design. We control the quality of all stages of our production, all landing surfaces undergo mandatory grinding. Weld quality control is carried out.
We are confident in our products, so we provide a 36-month warranty for the MS-120BD-K chipper. In addition, we, as a manufacturer, carry out warranty and post-warranty maintenance of equipment.
Inform the manager of the company about the desire to buy a grinder in installments. Call or fill out the feedback form right now.
Shipping and payment
Shipping
Nova Poshta
SAT
---
Payment
Cash, Non-cash (with and without VAT), purchases and tenders Prozorro, Visa/MasterCard, Cash on delivery
---
Installment plan
It is possible to purchase goods in installments from the following banks:
Monobank
Arpal Customers