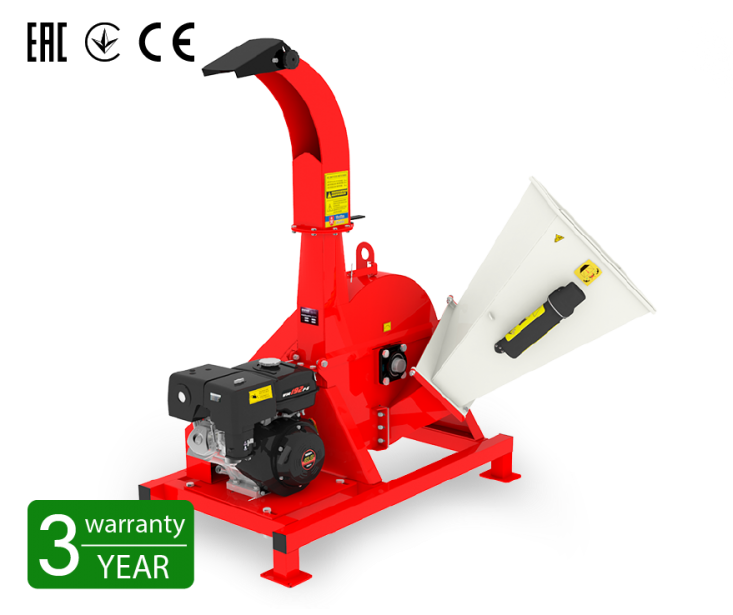 Wood shredders
MK-100BD
Wood shredder MK-100BD disk type chopping branches, slats, drifts and other wood waste into the technological chips with a size of 5..50 mm. The maximum diameter of the branches is 100 mm, depending on the species and moisture of the tree. The wood shredder can change the direction of the chip flow by 360 degrees. The wood shredder is powered by a gasoline engine with a power of 18 hp. The chopper frame has mounting paws that allows to fix the chopper on the trailer.
OVERALL DIMENSIONS AND MASS CHARACTERISTICS
| | |
| --- | --- |
| Length: | 1720 mm |
| Width: | 1290 mm |
| Height: | 1650 mm |
| Weight: | 240 kg |
MAIN WORKING CHARACTERISTICS
| | |
| --- | --- |
| Max. productivity: | 6 m3/h |
| Soft wood max. diameter: | 100 mm |
| Hard wood max. diameter: | 80 mm |
| Size of splinter: | 5...50 mm |
| Quantity of knives: | 4 pcs |
| Max. turns on cutting knives: | 1000 rpm |
ENGINE CHARACTERISTICS
| | |
| --- | --- |
| Engine power: | 18 h.p. |
| Max. turns on engine shaft: | 3600 rpm |
| Fuel type: | Regular |
| Max. fuel expenditure: | 230 g/h.p.*hour |
Shipping and payment
Shipping
Nova Poshta
SAT
---
Payment
Cash, Non-cash (with and without VAT), purchases and tenders Prozorro, Visa/MasterCard, Cash on delivery
Wood shredder MK-100BD disk type is designed for processing and utilization by grinding branches, rods, duplexes, lamellas and other wood waste. Wood shredder turns raw materials into technological chips. Up to 90% of the resulting chips will be 5 ... 50 mm in size, 10% in free size, when grinding thin branches, it is possible to increase or decrease the fraction. The size of the chips is not regulated and basically depends on the type of feed material. Wood shredder MK-100BD is capable of cutting branches up to 10 cm in diameter, depending on the moisture and wood species. Finished chips can be used for heating in solid fuel and pyrolysis boilers, fireplaces, stoves and other heating appliances.
Also, wood splinter can be used as mulch material for plants or fertilizer. With further processing from wood chips, it is possible to obtain fuel pellets or granules.
The working body of the MK-100BD is a disk on which 4 knives are located, on the opposite side of the disk there are blades which create the necessary air pressure to feed the chips on the unloading funnel. The knives are made of 55WCrV8 steel and are double-sided which significantly extends the life of the knives of the chipper. Necessarily the knives undergo the heat treatment process on a modern HIGH FREQUENCY INDUCTION HEATING MACHINE installation. The productivity of the MK-120TP chipper is as much as 6 cubic meters of finished chips per hour of operation. Productivity directly depends on the quality of raw material preparation and the number of personnel involved in the work.
Wood shredder MK-100BD is equipped with a gasoline engine of the brand WEIMA with an output of 18 hp. fuel consumption of which is only 800 g / h. This engine is one of the most high-quality on the territory of Ukraine, service centers are located in each region. The engine is protected against overload by a special friction clutch of our design. The engine has a separate warranty from the manufacturer for a period of 12 months.
Wood shredder MK-100BD is installed on a rigid frame from a profile pipe that has paws with which it is possible to fix the chopper on any convenient surface (for example, an automobile trailer). On the chopper there is an unloading funnel that allows you to change the direction of the flow of chips in two planes and rotates by 360˚.
The wood shredder MK-100BD is completely manufactured at our enterprise. We control the quality of all stages of our production, all landing surfaces are obligatory grinding. Quality control of welded joints is carried out. Before painting, all structures are stripped. The wood shredder is covered with powder paint, which significantly extends the service life of the structures.We are confident in our products, so we provide a 36-month guarantee for wood shredder MK-100BD. In addition, we, as a manufacturer, produce both warranty and post-warranty maintenance of the wood shredder MB-100BD.
By purchasing a chipper from us you get a reliable assistant on the way to your energy independence!
Shipping and payment
Shipping
Nova Poshta
SAT
---
Payment
Cash, Non-cash (with and without VAT), purchases and tenders Prozorro, Visa/MasterCard, Cash on delivery
Arpal Customers