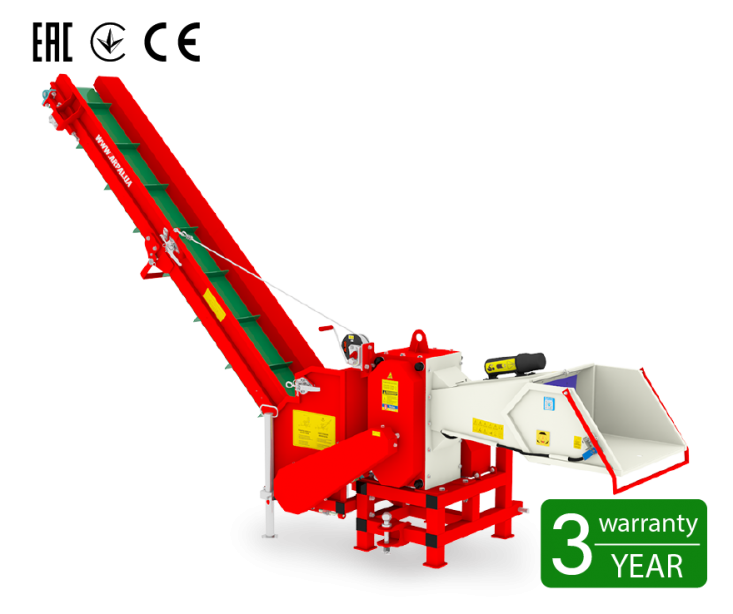 Wood chippers
AM-140TR-K PRO
Wood chipper AM-140TR-K PRO cut branches, slats, drifts and other wood waste into billets 100-220 mm long. The maximum diameter of the branches is 140 mm, depending on the species and moisture of the tree. The shredder is driven by a PTO of a minimum power tractor of 40 h.p. and mounted on a three-point hitch. The wood chipper is equipped with a conveyor belt for feeding the finished product. To connect the shredder to the tractor, a cardan shaft T5 with a friction and overrun clutch is necessar…
OVERALL DIMENSIONS AND MASS CHARACTERISTICS
Axle mounting diameter to tractor:
MAIN WORKING CHARACTERISTICS
Max. turns on cutting knives:
Wood chipper AM-140TR-K PRO is designed for processing and recycling by cutting branches, rods, duplexes, lamellas and other wood waste. The shredder of the branches turns the raw material into pieces with a length of 10 ... 22 cm, this size is not regulated but depends on the diameter (thickness) of the raw material. The wood chipper AM-140TR-K PRO is capable to cut branches up to 14 cm in diameter depending on humidity and wood species. Chopped branches are ideal fuel for pyrolysis and solid fuel boilers, fireplaces, stoves and other heating appliances, as well as for the production of charcoal.
The wood chipper AM-140TR-K PRO is driven from the tractor PTO shaft and mounted on a standard three-point linkage. The minimum required power of the tractor for working with the chopper branches is 40 hp. To connect the tractor to the chopper, we recommend using a cardan shaft of class T5 with a friction and overrun clutch that protects the chaff from the branches and the tractor from overloading.
The working element of the wood chipper is knives. The wood chipper AM-140TR-K PRO has 6 knives, the knives are made of AISI 5140 steel, have a double grinding angle and necessarily pass the heat treatment process on a modern HIGH FREQUENCY INDUCTION HEATING MACHINE installation. Cutting knives are inserted into the milled groove of the working shaft, this technology significantly reduces the load on the fixing bolts of the knives. The AM-140TR-K PRO is equipped with a conveyor that allows you to feed the chopped material directly to the car trailer or to a special container (container, big bag). The conveyor allows to significantly increase labor productivity and reduce the number of personnel during work. In conveyors we use only high-quality PVC tapes produced in Poland or Holland.
The inlet hopper of the wood chipper is equipped with a curtain made of transparent PVC to protect the operator from chips during operation.
The wood chipper AM-140TR-K PRO is completely produced at our enterprise. We control the quality of all stages of our production, all landing surfaces are obligatory grinding. Quality control of welded joints is carried out. Before painting, all constructions are stripped. The shredder is covered with powder paint, which significantly extends the life of the constructions.
We are confident in our products; therefore, we provide a 36-month guarantee for the AM-140BD-K PRO. In addition, we, as a manufacturer, produce both guarantee and post-warranty maintenance of the wood chipper AM-140BD-K PRO.
By purchasing a wood chipper from us you get a reliable assistant on the way to your energy independence!
Arpal Customers